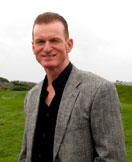 (510) 771-2157

(510) 378-2224
Other information
GolfTranz President, Steve Fluke has a long and successful involvement in the golf industry as both a player as well as golf industry professional. Ever since his early days in junior golf he has enjoyed the sport and the challenges golf represents both on as well as off the course as it pertains to the golf business environment. It has been an important part of his life and he has advanced to become both a competitive professional, winning three professional events on satellite tours, as well as achieved success off the course.
After a 7 year stretch as a competitive golf professional Steve moved on to become a club professional and a member of the PGA working in many capacities including merchandising and management. Although rewarding he sought a new challenge and moved into a different arena of competition, the corporate world and the MCI Corporation.
At MCI he excelled learning the business from the ground up and quickly advanced to management. After three years he was ready for another challenge and formed GolfTelecomm, a sales organization providing telecommunication and internet services to golf companies throughout the US. This was a successful operation but as the telecommunication industry evolved he moved forward and formed GolfTranz Business Services.
Formed in 2004, the GolfTranz group continues to offer a wide range of merchant services including hardware, software and payment systems consultation to hundreds of golf businesses and golf facilities throughout the US, Canada and Europe.
Through the years Mr. Fluke has established many associations and relationships within the golf industry that enhance his efforts and effectiveness in overseeing the day-to-day operations at GolfTranz and best serving the valued GolfTranz clients. In addition to contributing to the golf business community, GolfTranz is also involved in serving the golf community in general where the company also supports golf accessibility, junior golf and growth of the game programs.
Mr. Fluke earned degrees in Business Management and Finance from CSU, San Jose, California.